Recently, many regions of Syria (Aleppo in particular) have been subjected to mass airstrikes and bombing- a furious war between extremists, rebels and Western interveners claiming to be carrying out their innate responsibility of "defending democracy". Caught between the crossfire are little children who once lead ordinary lives, going to school, talking about superheroes and princesses, and living the boundless, colourful lives that children are supposed to live. 
A lot can change in a few years. Whereas before, the children of Syria went about their daily lives very much like the children of Britain or America, their state of being today is a whole different story. Countless documentary-makers, journalists and photographers have sought to capture the daily plight of Syrian children in photographs and films, and although these productions give us a glimpse of their struggles, we can never truly understand what these children are being forced to endure on a daily basis.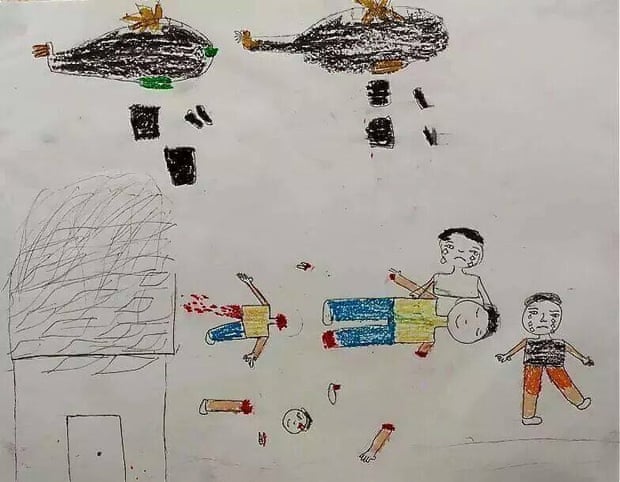 Two days ago, a very overwhelming image of a little Syrian boy was released, and took the world's media by storm. His name is Omran Daqneesh; he is around five years old, and he was pictured sitting dazed, afraid and alone in an ambulance, after being rescued from the rubble and remains of what was once his home; the other three children within the vicinity sadly passed away. Their last memories of this life were of missiles, shouting and being trapped under piles of rubble.Thousands of Syrian children have been killed, scarred for life, and forced to grow up beyond their years due to the atrocities they are being subjected to incessantly.
A CNN newsreader breaks down on live TV as she reports on Omran Daqneesh
These children should not simply be dismissed as 'collateral damage'. They deserve to enjoy the deliciousness of childhood without the constant anxieties associated with bombs and attacks. In truth, Western intervention is largely counterproductive; airstrikes by Russian and other Western governments are, in reality, feeding the flames and sustaining the war and merciless bloodshed. These incendiaries are destroying Syria's remains of centuries of rich history; they are killing children as they sleep in their beds; they are killing newborn babies as they fight for their lives in incubators, and then heartlessly denying these children entry into their lands. Where is the humanity?
Ultimately, there is only one clear solution, and that is to stop bombing Syria. 
---
Sadia Ahmed, 2016
Twitter: @sadiaahmedj | Instagram/Snapchat: sadiaahmedj | Youtube